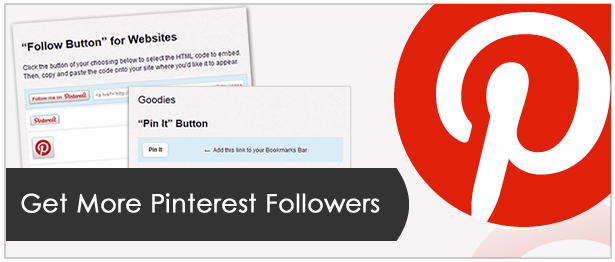 Tips for Finding Followers on Pinterest
So you've set up your Pinterest account and even made some pins. Now, how do you get people to follow you on Pinterst? You can find Pinterest followers by using your personal marketing and promoting yourself in all aspects. This includes in person as well as web options like your website, social media, such as Facebook and Twitter, business cards and even email signatures.
Pin-Tip: First Impressions are Important
If your page isn't ready for public viewing, don't promote it!
This means, if you have not put your profile together, or added your company logo and information, your page isn't ready. Make sure all of your pin boards have something on them. It is better to look like a new Pinterest user than an incomplete Pinterest user.
Getting Pinterest Followers Directly from your Webpage
On your webpage, there is probably a place for social media icons, you should add a Pinterest icon here. This will help you get followers on Pinterest.
Also, Pinterest offers a "Follow Me" button that can be inserted onto your blog or webpage. The code for this can be found on Pinterest's "About" section. Simply hover over the About tab and choose "Pin it Button". You will be redirected to the Goodies page. Once there, scroll until you see the "Follow Button for Websites".

Using Other Forms of Social Media to Find Pinterest Followers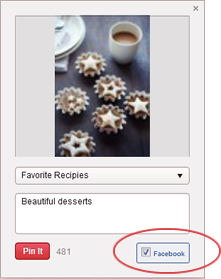 If you have a Facebook or Twitter account, finding followers on Pinterest may be as easy as announcing that you have a Pinterest page on your Facebook or Twitter feeds.
To further help with promotion of your Pinterest account, when you pin something there is a box you can check for both Facebook and Twitter (shown to the left). Adding Pinterest to your Facebook timeline will post all of your Pinterest pins on your timeline, further promoting your page.
Do you want to share an entire board? Well you can! Simply login to your Pinterest account, find the board you want to share, click on the tile that represents it. Once on the page of that specific board, copy the URL from the top and share!
Additional Pin-Tips
Have a special asking customers to take photos of their favorite items/products and pin them.
Use the print friendly Pinterest logos that are provided on the site on business cards and other personal branding.
Use your Pinterest URL on all paperwork given to customers.
Tips for Finding Followers on Pinterest
Russ Cuthrell is a Michigan Internet Marketing and SEO Expert located in Shelby Township, Michigan. His company, Spyder Byte Media, helps clients like you with all of your social media marketing needs for your Michigan small business.
For more tips or help with Pinterest marketing, contact Russ at (586) 260-1344