Here at Spyder Byte Media, we know the importance of blogging. Search engines like Google and Bing are always looking for sites that have new and fresh content, and one of the easiest ways to keep your website up to date is to have a blog. The hard part for most bloggers is finding a topic that will keep your readers coming back and sharing your content. We have found a few of the newest blog trends for 2013 and want to share some helpful hints with you.
Quality over Quantity
It used to be, when writing a blog, you could just use the same focus keywords over and over again and Google would rank you high, but in recent years, this has changed. Today, the top search engines are looking for lengthy posts with good quality content and how often the sites are posting. As you start working toward a new blog post, keep in mind that your readers want to gain something from your blog, whether it be knowledge on how to do something or just a quick laugh, a quality blog post will get you noticed. It should be your goal to have your post shared on social media sites like Facebook or even Pinterest.
Show Your Expertise
In 2013, it is no longer enough to have a blog post with just one paragraph of information. Show that you know what you're talking about by writing what you know. People are more likely to share something that they find interesting and useful. If you can't think of anything to write about, try making a top ten- list of recent trends in your company or field of business.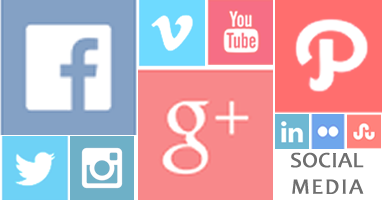 Facebook, Twitter, Pinterest….Social Media is King
Having a blog in 2013 is almost irrelevant if you are not sharing your blog on social media sites like Facebook and Twitter. A well written blog post will help draw more readers to your site as people share your link on social media sites. Having buttons for quick and easy sharing will help to bring new readers and potential clients to your site. If you're using WordPress for your blog, as we do at Spyder Byte Media, there are easy to install plugins available for this purpose.
Images are the New Form of Communication
Content on your blog is no longer just about the words you post. As blog trends of 2013 progress, it is more apparent that having video, images, infographics, and other forms of visual communication are just as important as the words you type. Having something for viewers to look at in between blocks of text will help to keep their attention, not to mention sites like Pinterest and Instagram use images for social sharing.
Keep up-to-date on the Latest Blog Trends of 2013
If you would like more information on blog trends of 2013 and getting to the top of the search engines, contact Russ Cuthrell at Spyder Byte Media.
Before you go, don't forget to click share at the bottom of the page!